About Candy Reaper
Candy Reaper is a free browser Halloween game. Help the Candy Reaper harvest all the sweets while avoiding syringes and other nasty things. Jump on different types of candies for different effects, and when the sugar rush kicks in be prepared for a leap close to outer space.

The goal of the game is to reach the highest altitude.
Gameplay
The gameplay of Candy Reaper made the game easy to play and hard to master, however, perseverance is rewarded as you do not lose any progress when you die.
You start at level 1 with the Candy Reaper. The floor remains under him so that he's safe if he falls down. As you progress through the game you acquire Experience which in turn levels you up.
Leveling up is the only way of getting new abilities and unlocking new Halloween candy. The higher you are, the harder the game gets but the rewards are also increased.
Trying jumping on all the different types of candy and see what you discover!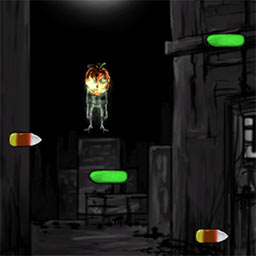 Controls
The game features touch support; tapping / clicking with the mouse on the left side of the screen will make the Candy Reaper jump towards the left. Tapping / clicking with the mouse on the right side of the screen will make him jump towards the right.

You can also use the keys WASD or the arrow keys to redirect where the Candy Reaper is jumping towards.

Tips
Focus on jumping on safe candies at first until you get a hang of the controls.
The green jelly candy is a great way to boost yourself up to the top, however, the fall can prove quite fast and you might die.
Feedback
Did you like our Halloween game - Candy Reaper? Did you hate it? Tell us about your experience! This is the best way for us to know what to improve. We realize that your time is very important so a single line reply would be enough and we'd be grateful for it. You can drop us a message here.