About In Mexico Royale
In Mexico Royale is a free mobile-friendly browser battle royale game about crossing the border between Mexico and America.

Gameplay
In Mexico Royale is a battle royale game in which you need to survive the longest by balancing Hunger and Money. Eating food (jumping and hitting it with your character) will increase your Hunger bar while lowering the Money (food costs money).

Food can only be gathered from Mexico while money can only be looted from America. The player needs to balance out crossing the border between Mexico and America to not starve nor to get bankrupt.

The player has access to jumping and sprinting, however the latter costs more food.

Every now and then the Police will come and chase the players increasing their speed, and thus making them hungry faster.

After the end of each race you will be rewarded with Experience based on the distance that you managed to travel. Enough Experience and you will level up unlocking other characters with their unique abilities.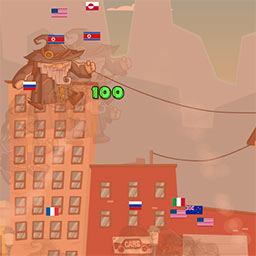 Controls
The controls are simple: any mouse button or tap to make the player jump. There are also 2 buttons on the bottom left and right corner, one is for jumping, the other one is for sprinting.

Tips
Sprinting will help you to catch up with other players but at low levels it's not really needed, you should just conserve your Hunger and Money to get big rewards at the end and level up faster.
Different characters have different abilities, choose one that fits your game style.
Feedback
Our games get improved based on user feedback and there's just so much that we can guess. If you liked In Mexico Royale or hated it, we'd love to hear why. Do drop us a line here.